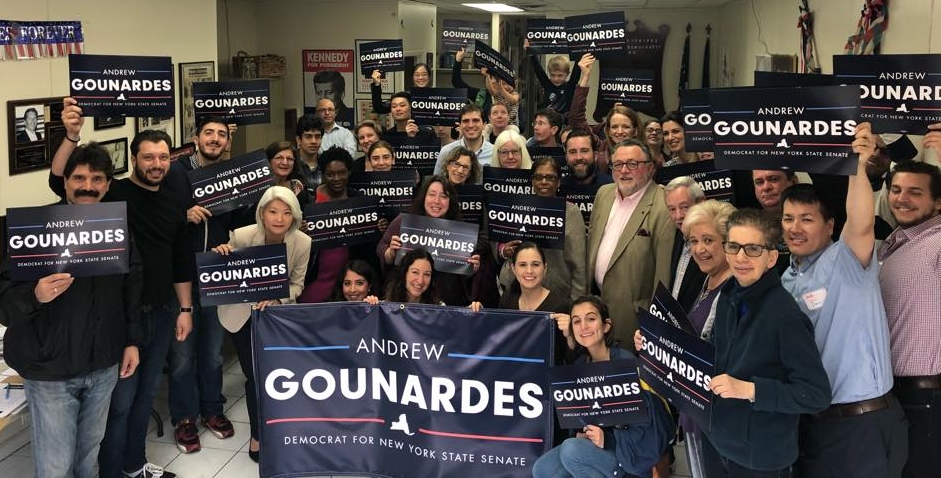 Teamsters Endorse Andrew Gounardes for New York State Senate District 22
The International Brotherhood of Teamsters has endorsed New York State Senate candidate Andrew Gounardes for Brooklyn's District 22.
"The International Brotherhood of Teamsters Joint Council 16, is proud to endorse Andrew Gounardes," said President George L. Miranda. "Andrew is committed to fighting for a better future for working families in Southern Brooklyn: good jobs, lower housing costs, and quality affordable healthcare. We stand beside him because we believe he is the best choice for Brooklyn, District 22 and will be a strong voice for working families in Albany."
"I'm honored to have the endorsement of the International Brotherhood of Teamsters," said Andrew Gounardes. "We share common goals for New Yorkers, good-paying, stable jobs and affordable quality healthcare for all families. For too long, working people have been hit by rising property taxes and rents, and that has to change. Together with the Teamsters, we will make sure that Brooklyn's working families get a better deal."
About Andrew Gounardes
Born and raised in Bay Ridge, it was in Southern Brooklyn where Andrew Gounardes started his work in public service. As an aide to former City Councilmember Vincent Gentile, he helped neighbors solve everyday quality of life problems. Currently, he serves as Counsel to Brooklyn Borough President Eric Adams and as a trustee of the New York City Employees' Retirement System, one of the largest municipal pension funds in the country. Before serving at Borough Hall, he worked for Citizens Committee for New York City, a non-profit that provides neighborhood improvement grants to community groups across the five boroughs. He also served on Community Board 10 and is a longtime member of the Holy Cross Greek Orthodox Church in Bay Ridge.
After Superstorm Sandy, Andrew co-founded Bay Ridge Cares, an organization that prepared 25,000 hot meals for victims after the storm. Today, the organization still supports community members facing extraordinary need by providing them with emergency assistance. As a member of the Riders Alliance, he organized and formed the Concerned R Train Riders to fight for better service and demand handicapped accessible subway stations in South Brooklyn. He helped write and pass legislation to combat dangerous home conversions, and continues to work toward helping those who are displaced from unsafe living conditions.
His work with Bay Ridge Advocates for Keeping Everyone Safe (B.R.A.K.E.S.) successfully pressured Albany lawmakers to allow speed cameras in school zones. As an advocate for art and culture in our neighborhoods, he served as pro bono legal counsel for the Bay Ridge Storefront Art Walk (S.A.W.) and as past president of the Bay Ridge Historical Society.
Andrew graduated from Fort Hamilton High School before going on to earn degrees from Hunter College and the George Washington University Law School.
District 22 comprises the Brooklyn neighborhoods of Bay Ridge, Dyker Heights, Bensonhurst, Marine Park, Gerritsen Beach, and Gravesend, as well as portions of Sheepshead Bay, Borough Park, and Midwood.