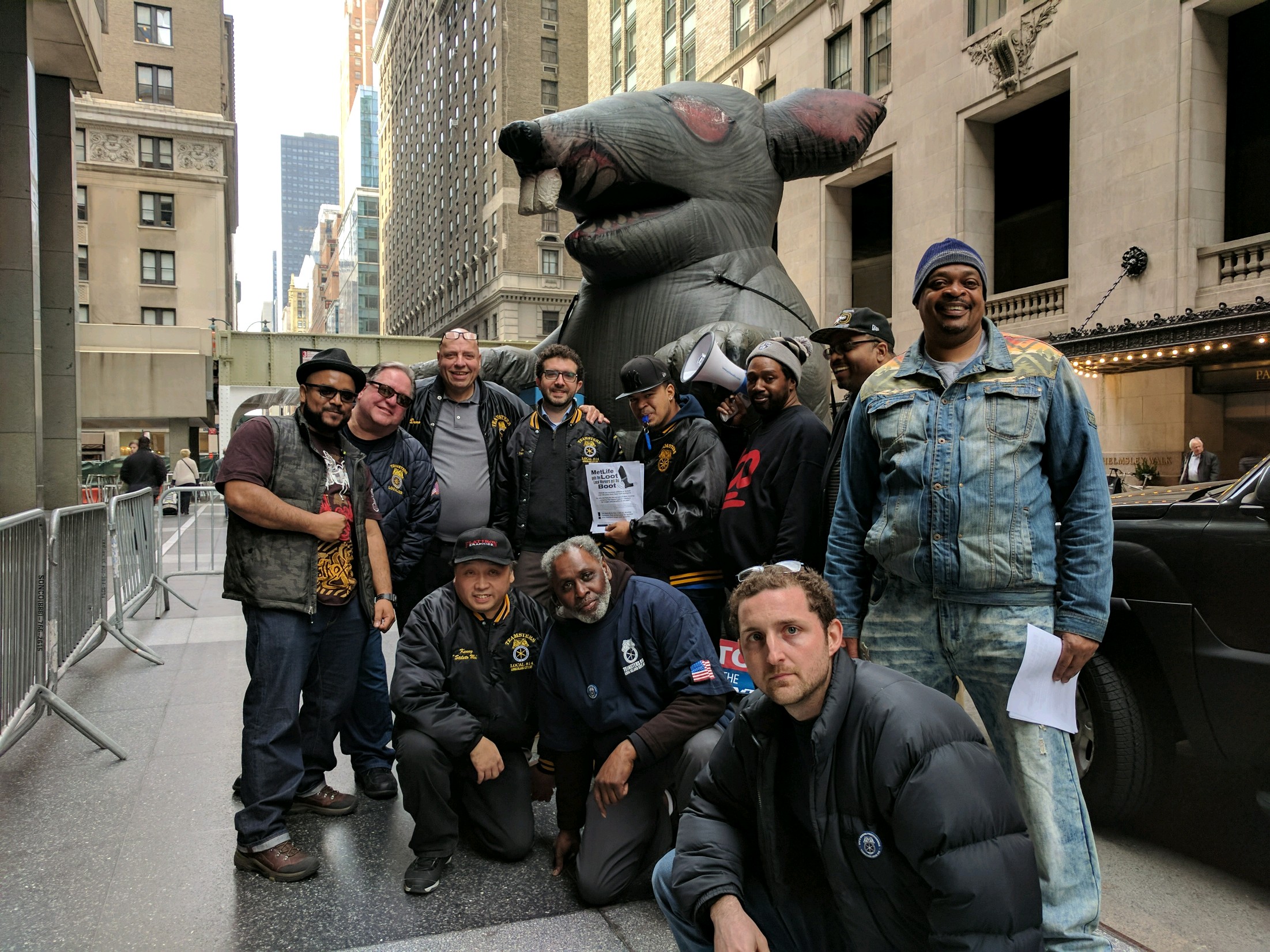 Elected Officials, Labor Leaders: Review MetLife's Public Contracts, Subsidies Over "Despicable" Hiring Practices MetLife, which receives millions from NY taxpayers, hired out-of-state commercial moving firm that does not pay its workers fair wages
New York elected officials and labor leaders condemned MetLife, Inc. – #48 on the Forbes 500 list – and called for a review of the $50 billion company's massive public contracts and subsidies today, following the insurance giant's decision to hire a contractor known to pay unfair wages to its workers.
Local leaders are also outraged that New York-based MetLife takes millions from New York taxpayers, yet hired an out-of-state company for its massive move of 1,800 workers in Manhattan. The moving company is associated with the "Metropolitan Movers Association," which has repeatedly sued the City to lower prevailing wage standards, hurting New York's working families.
"I don't know what's more despicable: that MetLife has hired an out-of-state moving company that does not pay its workers fair wages, or that it's using our taxpayer dollars to do it," said Jason Ide, President of Teamsters Local 814. "MetLife benefits greatly from New York taxpayers—yet it is refusing to hire a local moving company whose workers are paid fair wages and benefits. It is virtually impossible for workers to be paid a fair wage when companies like MetLife hire contractors that undermine the long-standing pay standards that keep New York's middle class afloat. If this is how MetLife treats New Yorkers, its public contracts, subsidies and tax breaks should all be placed under formal government review."
Elected officials, including State Comptroller Thomas DiNapoli – who oversees the New York State Common Retirement Fund's investments with MetLife – and the City, State and Federal representatives who represent MetLife's Manhattan headquarters, all condemned MetLife's actions.
"As I understand it, your company has recently contracted with a moving company, All Seasons Movers, which reportedly does not pay its workers a fair wage and benefit package," DiNapoli wrote in a letter to MetLife CEO Steven Kandarian. "I am troubled by MetLife's use of this moving company."
"I am distressed that MetLife is choosing an out-of-state mover with a reputation for underpaying its workers," said Congresswoman Carolyn B. Maloney. "We have great moving companies in this city whose workers are represented by Local 814, and I urge MetLife to consider using one of them."
"I am quite concerned that Met Life, with their nearly 150-year legacy in New York City, appears to have taken steps that fly in the face of good corporate citizenship," said Council Member Daniel Garodnick. "I hope they will correct this without delay."
"Major companies like MetLife have a responsibility to hire contractors who provide their workers fair wages and decent benefits," said State Senator Brad Hoylman. "I urge MetLife to work with local moving companies who meet this standard."
Labor leaders joined the elected officials, calling for MetLife to be accountable to working families and taxpayers.
"It is bad enough when a huge New York employer like MetLife lowers wage standards for local workers—but to do it while taking millions and millions of our dollars in taxpayer money is reprehensible," said Teamsters Joint Council 16 President George Miranda. "Until MetLife conducts itself decently and ensures workers at its buildings are paid a fair wage and benefits, New York City and State should stop doing business with this dishonorable company and block any future subsidy. The people of New York should not support a company that does not support them."
"​The hard-​earned retirement ​funds of New York State workers should not be used to lower the wage standards of working people," said Vincent Alvarez, President of the New York City Central Labor Council, AFL-CIO. "MetLife has an opportunity to reinforce labor's values by hiring a moving company committed to supporting working New Yorkers and their families. The New York City Central Labor Council stands with Teamsters Local 814 in calling on MetLife to contract with companies who prioritize the responsible use of State employees' retirement funds by paying movers family-sustaining wages and benefits."
MetLife receives tens-of-millions of dollars in tax breaks and subsidies from New York State and federal taxpayers, as well as business from various state entities. Over the last 15 years, MetLife has been a beneficiary of more than $91 million in New York State tax breaks and subsidies—not to mention a recipient of federal bailout dollars during the Great Recession.
MetLife also recently partnered with the New York State Common Retirement Fund (Fund) – which already has $140 million in taxpayer dollars invested in MetLife – for a joint real estate venture, which involved the fund purchasing a 49.9% stake in properties valued at over $1.4 billion. And MetLife is the preferred insurance and retirement management company for thousands of City University of New York (CUNY) and State University of New York (SUNY) employees and graduate students.
Teamsters Local 814 is the only commercial moving union local affiliated with leading labor organizations like the Building Trades, the Central Labor Council, and the AFL-CIO. It also has the support of dozens of elected officials, who have signed an open letter to commercial moving tenants and real estate companies, asking them "to look no further" than Local 814 companies when hiring a mover.