Local 202 Turns 100 Years Old One of Bronx's Oldest Labor Unions Celebrates Anniversary with Elected Officials and Thousand Members Teamsters Local 202 represents over 4,000 workers in New York, including those at Hunts Point Market, the Bronx's largest employer
BRONX, NY – Teamsters Local 202, founded in 1916, celebrated its 100th anniversary today, alongside Bronx elected officials and a thousand union members.
"Teamsters Local 202 has always been a beacon for the Bronx, fighting for good jobs for all borough residents," said Teamsters Local 202 President Daniel Kane, Jr. "Today, workers need unions more than ever and Local 202 looks forward to 100 more years of defending the Bronx's middle-class families. We are proud of our history and thank all of our members and our elected officials for celebrating with us today."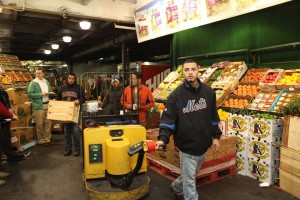 Since its inception, Teamsters Local 202 has represented workers in New York's produce and food service industry, first at the markets and warehouses along Manhattan's West Side and since 1967 at the Hunts Point Terminal Market. The Hunts Point market has grown to become the largest produce market in the United States, serving most of the restaurants and grocers in the New York area. Local 202 has grown alongside the market, representing about 1,000 workers at the market and over 4,000 workers in total.
Local 202 is part of the International Brotherhood of Teamsters, one of America's largest and strongest unions.
The event, at the Kips Bay Boys & Girls Club in the Bronx, featured speeches about the history of the union and its important role in the Bronx. Union members brought their spouses and children to celebrate with activities for all ages.
Elected officials joined to present proclamations commemorating the union's central role in creating middle-class jobs in the Bronx and making economic opportunity available for all. Those attending included State Senators Gustavo Rivera and Diane Savino, Assembly Members Marcos Crespo, Michael Blake, and Victor Pichardo, and Council Members Rafael Salamanca, Richie Torres, Vanessa Gibson, and Andy King.