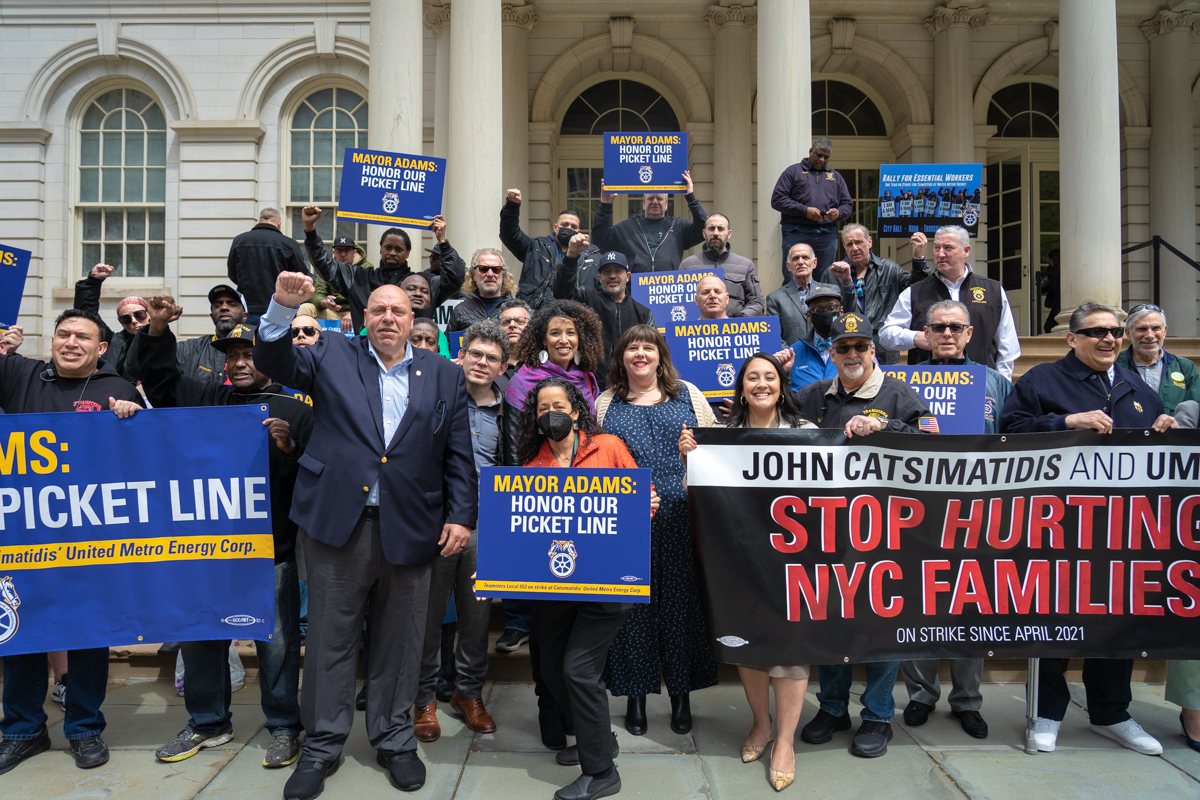 New York Heating Workers Approve Citywide Union Contract with Big Raises Strike continues at John Catsimatidis oil company, which pays workers $12 per hour less than the new union standard
Teamsters Local 553 members voted overwhelmingly this month to approve a new city-wide union contract covering the workers who keep New York City warm every winter. Under the new agreement, heating oil drivers, terminal operators, and service technicians will be earning over $43 per hour by the end of 2024.
"Teamsters have fought for high working standards in this industry since we delivered coal by horse-drawn cart," said Demos Demopoulos, Secretary-Treasurer and principal officer of Local 553. "We fought for the contract that essential workers deserve and, with the workers united, we won."
"This union contract allows us to take care of our families, especially with all of the economic turbulence we've seen in recent years," said Frank Fico, a service technician in New York City and a union shop steward. "The members were involved every step of the way to make sure this contract protects us on the job and provides the health and retirement we need."
Workers in the industry got an immediate $2.50 raise when the contract took effect December 16, with future raises bringing the total pay increase to $5.50 over the life of the agreement. The contract also includes substantial increases in employer contributions to workers' medical benefits, annuity, and pension. Family medical coverage will remain high-quality and free-of-cost for members.
The contract also adds Juneteenth as a paid holiday for all workers in the industry.
Workers at one billionaire-owned heating oil distributor — where a 600 day strike is ongoing — are not covered by the contract and they will continue to be paid below the industry standard. John Catsimatidis's United Metro Energy Corp. pays its terminal operators $12 less than the standard wage under the new city-wide contract. Catsimatidis also pays drivers, service technicians, and mechanics substandard wages.
"New York has prevailing wage laws for a reason, but John Catsimatidis is flouting the law and short-changing working families to add to his billions," said Demopoulos. "Why is New York City continuing to spend millions of dollars per year buying heating oil from Catsimatidis when other companies are following the law and paying their workers fairly?"
"We are the immigrant workers who kept the hospitals warm and the ambulances fueled during the pandemic," said Andre Soleyn, who led the union organizing drive at UMEC and is among the workers who have been on strike for over a year. "We deserve the same wages that other workers in this industry are getting."