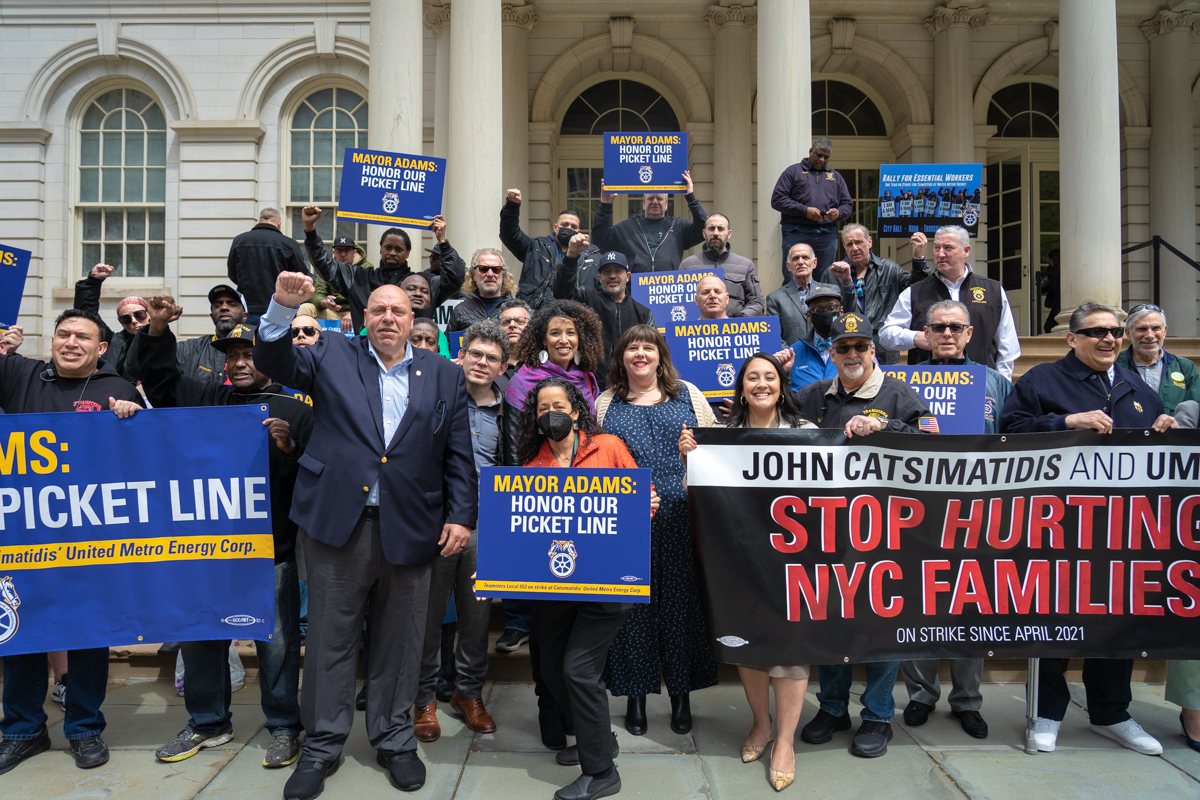 Striking Workers Rally at City Hall, Call on Mayor Adams to Honor Picket Line Workers have been on strike for one year battling for fair wages at NYC contractor owned by billionaire John Catsimatidis
Essential workers marked one year on strike with a rally at City Hall calling on Mayor Adams to stop doing business with their union-busting employer. United Metro Energy, owned by billionaire John Catsimatidis, has received $37.9 million from New York City over the last year, undermining the strike.
"Mayor Adams, the working class people of New York City need your help," said Ivan Areizaga, a terminal operator who is among the striking workers at United Metro Energy. "When we went on strike, John Catsimatidis took away our health insurance and my son couldn't get his insulin. This is not the kind of company that New York City should be sending public dollars to."
The immigrant workers have been on strike since April 2021. They provided gasoline, diesel, and heating oil to New York throughout the pandemic, while Catsimatidis paid them wages as much as 50% lower than at other city oil companies.
"These are the immigrant essential workers who risked their health to get our city through the pandemic," said Demos Demopoulos, Secretary-Treasurer of Teamsters Local 553. "Now they need our city's help, and Mayor Adams should stand with them, not their billionaire owner."
UMEC has received an average of $21 million each year from New York City agencies since 2015 as a prime contractor, mostly from the Department of Education for heating oil. In total, New York City agencies have spent a total of $153 million on UMEC contracts since 2013. In addition to the Department of Education, other city agencies that also purchase fuel from UMEC include The City University of New York, the Department of Education, the Department of Environmental Protection, and the Department of Social Services.
"Today I stood with my union brothers and sisters of Teamsters Local 553, Joint Council 16, and members of United Metro Energy to mark the one year anniversary of their fight to unionize," said Council Member Amanda Farias. "This is what fighting for labor rights looks like. This is what protecting workers looks like. We cannot go back to whatever was considered normal. We have to take up and demand space for our workers. If you provide essential services to this City then you deserve to have your essential services met too. Labor unions are about the people coming together to prioritize their humanity over labor. I am proud to be a part of the labor movement everyday."
"The workers at UMEC deserve fair wages, benefits, and respectful treatment, but they've received everything but that from their employer," said Council Member Sandy Nurse. "The City should not be doing business with a union-busting company that exploits its workers, and must not continue to cross the picket line by purchasing fuel from UMEC. I'm proud to stand in solidarity with UMEC workers today as they call on Mayor Adams to honor their picket line."
"Today marks one year that billionaire John Catsimatidis has denied the workers of United Metro Energy (UMEC) a fair contract, instead hiring replacements and firing those who speak out," said Council Member Shekar Krishnan. "New York City must stand with its essential workers and not with abusive employers. We must suspend city contracts with UMEC until Catsimatidis respects workers' rights and negotiates a fair contract."
UMEC terminal workers, fleet mechanics, and service technicians voted to join Teamsters Local 553 in February 2019, but Catsimatidis dragged out negotiations for a first contract for two years, precipitating the strike.
The company has sent letters to eight workers over the course of the strike telling them that they have been "permanently replaced." The firings have illegally targeted union activists. The National Labor Relations Board is currently investigating the firings.
In November, the New York City Comptroller opened an investigation into complaints that United Metro Energy has not paid workers the prevailing wage when delivering heating oil to City buildings. In February, the City Council Committee on Civil Service and Labor held a hearing with testimony on the ongoing strike.
The oil terminal distributes heating oil to New York City schools and hospitals, as well as fuel to area gas stations.