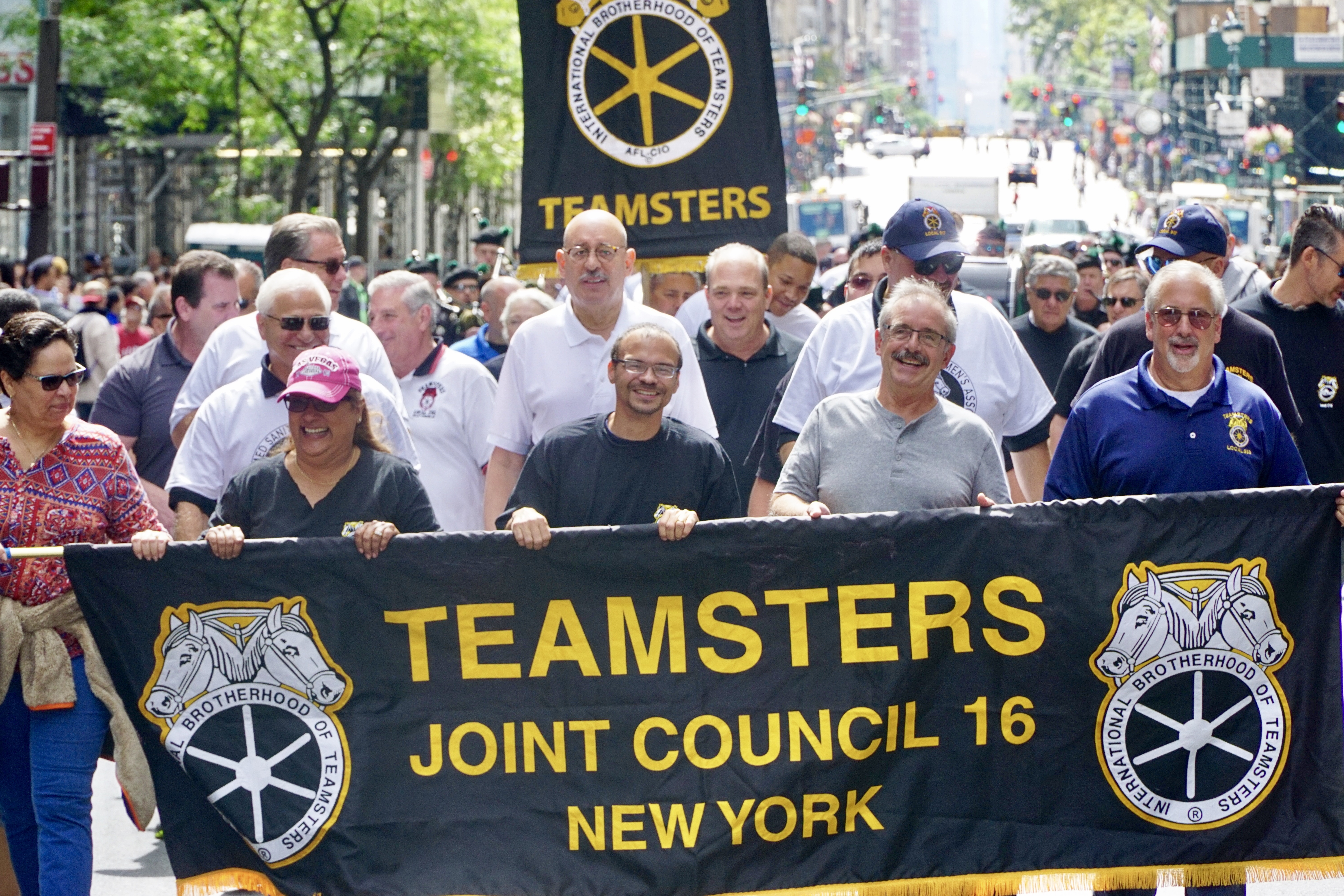 Teamsters Assembly Endorsements
Teamsters Joint Council 16, which represents 120,000 workers in New York City, Long Island, and the Hudson Valley, announced its endorsements for the New York State Assembly today.
"New York workers and our immigrant families are under attack from Washington and we need bold elected officials who will stand up for our communities," said George Miranda, President of Teamsters Joint Council 16. "These are the candidates who will fight for New York workers in Albany, and the Teamsters will fight for them. Our volunteers will be on the ground in key races across the region to fuel the blue wave and get pro-union candidates elected."
The union's endorsements include Amanda Septimo, who is challenging a longtime incumbent in Assembly District 84, which includes Mott Haven and Hunts Point. Born in the Bronx, Septimo is the child of an immigrant family and has been active in the community and advocated for progressive policies since her teens.
In Assembly District 15 on Long Island, the Teamsters are backing Democrat Allen Foley of Hicksville, a member of New York Glaziers Local 1087, who is also challenging an incumbent and trying to turn a red district blue.
The Teamsters represent a diverse swath of New York workers, including truck drivers, warehouse workers, sanitation workers, manufacturers, parking attendants, and public sector employees.
The full list of endorsements is below.
District 4 – Steven Englebright
District 6 – Philip Ramos
District 9 – Christine Pellegrino
District 10 – Steve Stern
District 11 – Kimberly Jean-Pierre
District 13 – Charles Lavine
District 15 – Allen Foley
District 16 – Anthony D'Urso
District 22 – Michaelle C. Solages
District 23 – Stacey Pheffer Amato
District 24 – David Weprin
District 25 – Nily Rozic
District 26 – Edward Braunstein
District 27 – Daniel Rosenthal
District 28 – Andrew Hevesi
District 29 – Alicia Hyndman
District 30 – Brian Barnwell
District 31 – Michele Titus
District 32 – Vivian Cook
District 33 – Clyde Vanel
District 34 – Michael DenDekker
District 35 – Jeffrion Aubry
District 36 – Aravella Simotas
District 37 – Catherine Nolan
District 38 – Michael G. Miller
District 39 – Ari Espinal
District 40 – Ron Kim
District 41 – Helene Weinstein
District 42 – Rodneyse Bichotte
District 43 – Diana Richardson
District 44 – Robert Carroll
District 45 – Steven Cymbrowitz
District 47 – William Colton
District 49 – Peter Abbate
District 50 – Joseph Lentol
District 51 – Félix Ortiz
District 52 – Jo Anne Simon
District 53 – Maritza Davila
District 54 – Erik Dilan
District 55 – Latrice Walker
District 56 – Tremaine Wright
District 57 – Walter T. Mosley
District 58 – N. Nick Perry
District 59 – Jaime Williams
District 60 – Charles Barron
District 63 – Michael Cusick
District 64 – Nicole Malliotakis
District 65 – Yuh-Line Niou
District 66 – Deborah Glick
District 67 – Linda Rosenthal
District 68 – Robert J. Rodriguez
District 69 – Daniel O'Donnell
District 70 – Inez Dickens
District 71 – Al Taylor
District 72 – Carmen De La Rosa
District 73 – Dan Quart
District 74 – Harvey Epstein
District 75 – Richard Gottfried
District 76 – Rebecca Seawright
District 77 – Latoya Joyner
District 78 – Jose Rivera
District 79 – Michael Blake
District 80 – Nathalia Fernandez
District 81 – Jeffrey Dinowitz
District 82 – Michael Benedetto
District 83 – Carl Heastie
District 84 – Amanda Septimo
District 85 – Marcos Crespo
District 86 – Victor M. Pichardo
District 87 – Karines Reyes
District 88 – Amy Paulin
District 89 – J. Gary Pretlow
District 91 – Steven Otis
District 92 – Tom Abinanti
District 93 – David Buchwald
District 95 – Sandy Galef
District 96 – Kenneth Zebrowski, Jr.
District 97 – Ellen Jaffee
District 100 – Aileen Gunther
District 103 – Kevin Cahill
District 106 – Didi Barrett