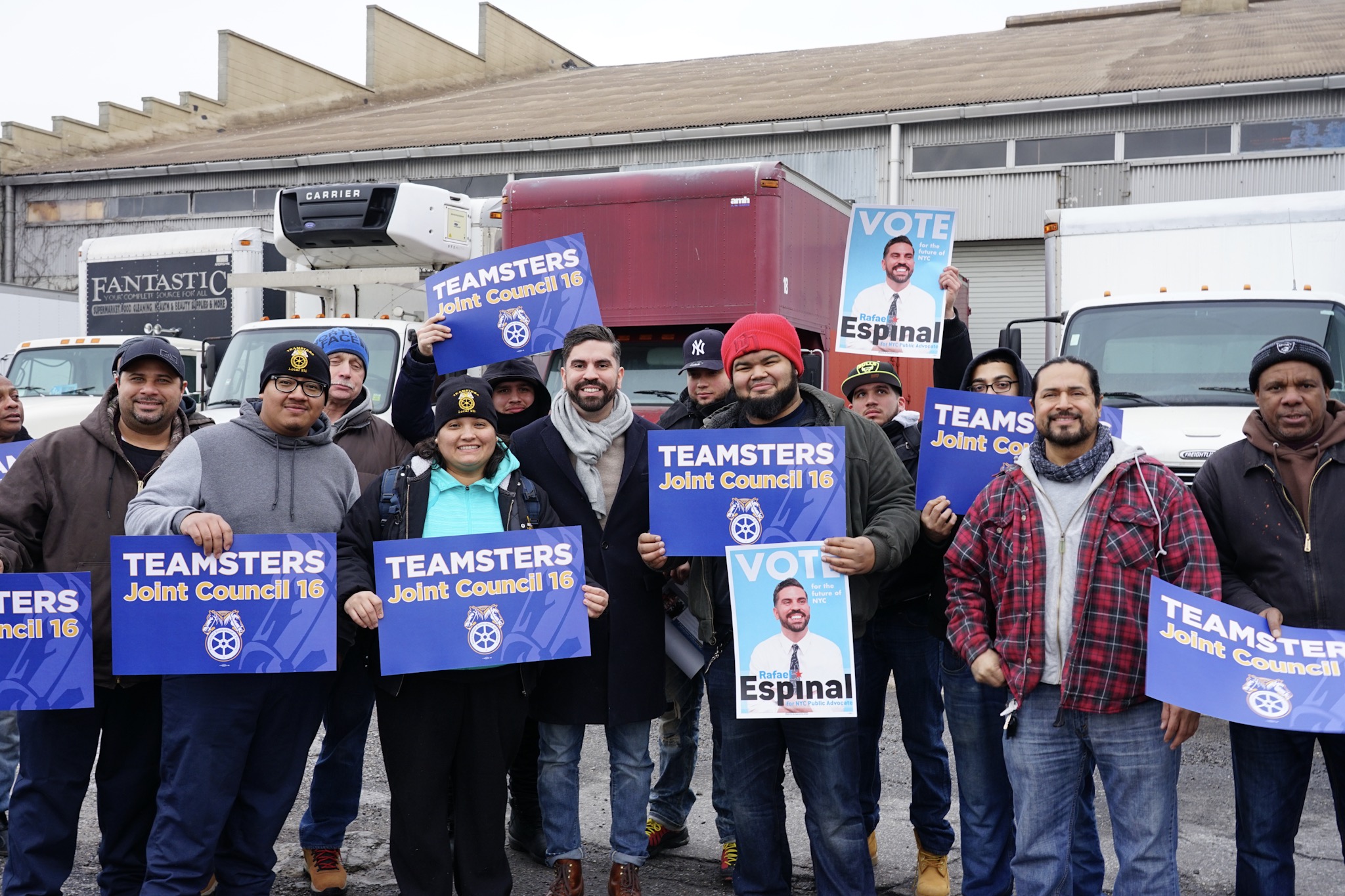 Teamsters Endorse Rafael Espinal for Public Advocate
Rafael Espinal, candidate for NYC Public Advocate, is honored to accept the endorsement of International Brotherhood of Teamsters Joint Council 16, which represents 120,000 workers and 27 local unions in and around New York City.
George Miranda, President of Joint Council 16, said: "Rafael Espinal has stood up for working people when their jobs were under threat many times and now, we are standing up for him. Rafael was the first elected official to stand with the Teamsters when 350 jobs were in jeopardy in a major confrontation with the mayor. He took on Charter/Spectrum and introduced legislation to ensure building workers are paid a prevailing wage. He has had our back as we push for higher wages and safe jobs for private sanitation workers. Rafael knows the importance of protecting and creating good jobs for New Yorkers. We firmly believe that Rafael understands that working people make New York a great city and he will continue to be a strong advocate for us."
Rafael Espinal said: "I'm honored to be endorsed by the Teamsters, representing 120,000 working people in the New York City area. Our shared vision for a more livable city will ensure that all working people will be represented in City Hall. Throughout my career, on the picket line and in City Hall, I've fought for good jobs and fair pay. I'm committed to making New York a more affordable city for working people by fighting for better wages, stronger housing laws, and fixing our transportation system so working people can get home quickly to spend time with their families. My Right to Disconnect legislation will help restore working people's right to uninterrupted time off with their families and friends. As NYC Public Advocate, I promise to continue to advocate at the highest levels for secure jobs, fair pay, and a more livable city for working New Yorkers."
The Teamsters' Joint Council 16 represents workers in a wide range of industries, including transportation, food and beverage, sanitation, warehousing, manufacturing, construction, energy, film, parking, and government.
About Rafael Espinal:
Rafael Espinal is a born and bred Brooklyner who serves the people of New York as City Council Member for the 37th District and previously represented the 54th State Assembly District. He has championed legislation to provide better healthcare, affordable housing, and good jobs for New Yorkers. Rafael passed legislation to repeal the archaic and racist "no dancing" Cabaret Law and to create New York's first Night Mayor and Office of Nightlife. He has recently advocated to make New Yorker greener with electric vehicles, solar power, and urban food gardens, and to move away from single use plastic products that pollute our streets, parks, and waterways.