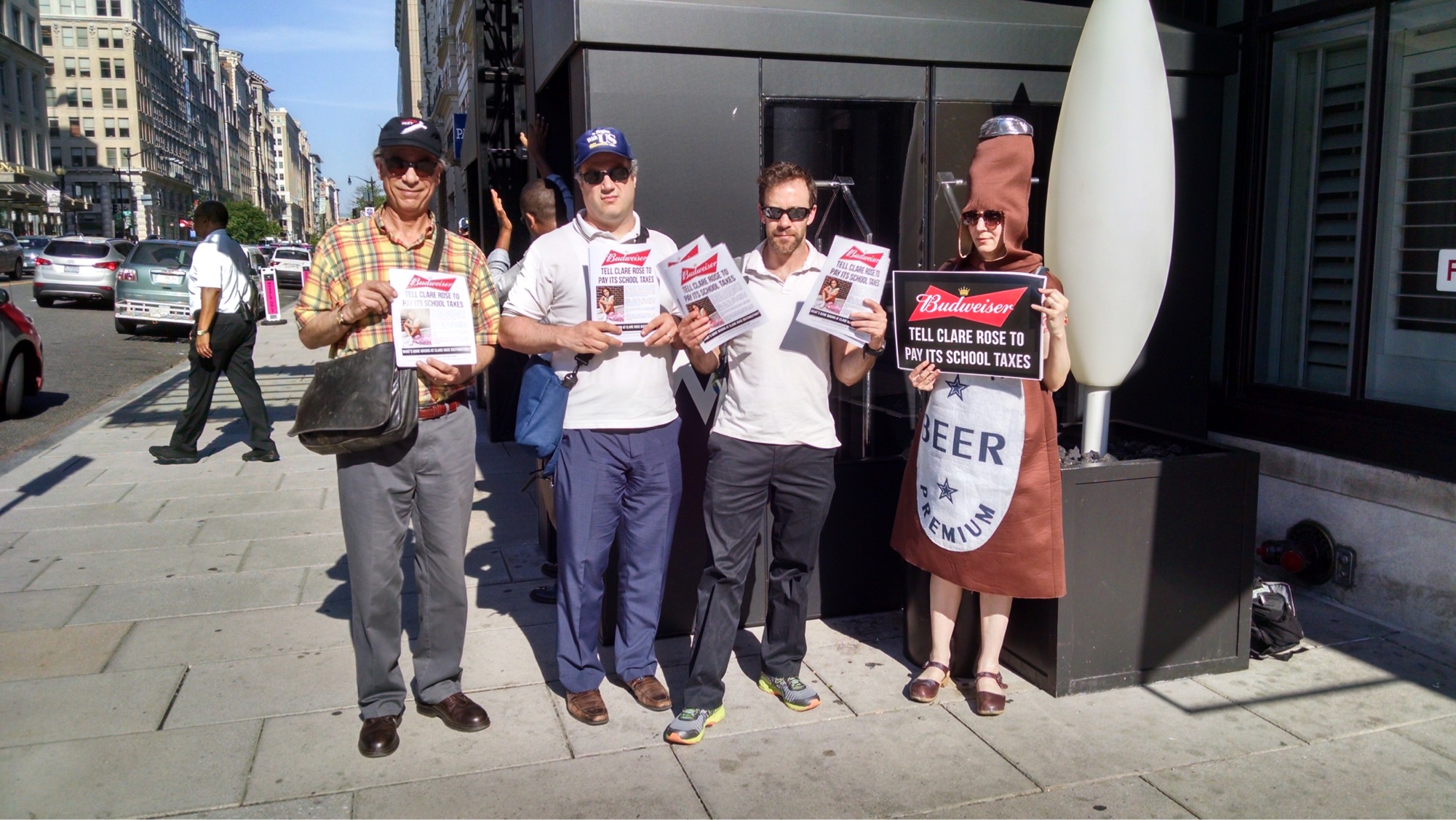 Teamsters Protest Clare Rose at Anheuser Busch-Sponsored Politico Event
Last night, the Teamsters Union protested Anheuser-Busch distributor Clare Rose, Inc. at POLITICO's "An Audit on Tax Reform" event at the W Hotel in Washington, DC. The event was sponsored by Anheuser-Busch [NYSE: BUD].
The protestors carried signs and distributed handbills that read, "Anheuser-Busch: Tell Clare Rose To Pay Its School Taxes."
In Long Island, Anheuser-Busch uses Clare Rose Distributing to distribute its Budweiser line of beers. Clare Rose took more than $370,000 out of Long Island schools in 2016 alone, as part of a long-term tax break that began in 2009.
Clare Rose's employees are represented by Teamsters Local Union 812 in Great Neck, New York.
"Recently, Clare Rose illegally threatened its employees, ended their pension, and slashed drivers' paychecks by 30%," said Edward Weber, President of Teamsters Local 812. "These workers had no choice but to go on an Unfair Labor Practice strike to protect their families, their homes, and their retirement."
"It's ironic that Anheuser-Busch is sponsoring this event on tax reform, when its distributor is taking tax breaks that hurt schoolchildren and entire Long Island communities," said Weber. "I'm not surprised that Brookhaven, the town that gave Clare Rose its tax breaks, announced yesterday that it will audit Clare Rose's employment levels."
Weber continued, "After getting public money for tax breaks, it's unconscionable that the Rose family would turn around and treat its longtime, loyal workers this way."
"We've gotten a lot of community support during our strike," said Louis Chiarelli, a 26-year warehouse worker at Clare Rose. "There are photos all over Facebook of local stores that are refusing to accept deliveries from Clare Rose until we get a fair contract."
More and more Long Island stores and bars have run out of Clare Rose products as the strike gains momentum. Clare Rose is the sole distributor of Budweiser, Bud Lite, Heineken, Pabst, Blue Point, Greenport, and several other craft beers for Long Island. It is headquartered in East Yaphank with an additional facility in Melville.
The union negotiated with Clare Rose for months without progress before the highly-profitable company imposed huge wage and benefits cuts. The union said the strike against the company's illegal actions will last until Clare Rose ceases its illegal conduct by restoring wage and benefit cuts and bargaining in good faith.
Teamsters Local 812 represents more than 3,500 Teamster families working in the beverage industry. Its members produce, haul, deliver, merchandise, and sell soda, water, beer, and sports drinks throughout the New York metropolitan area.