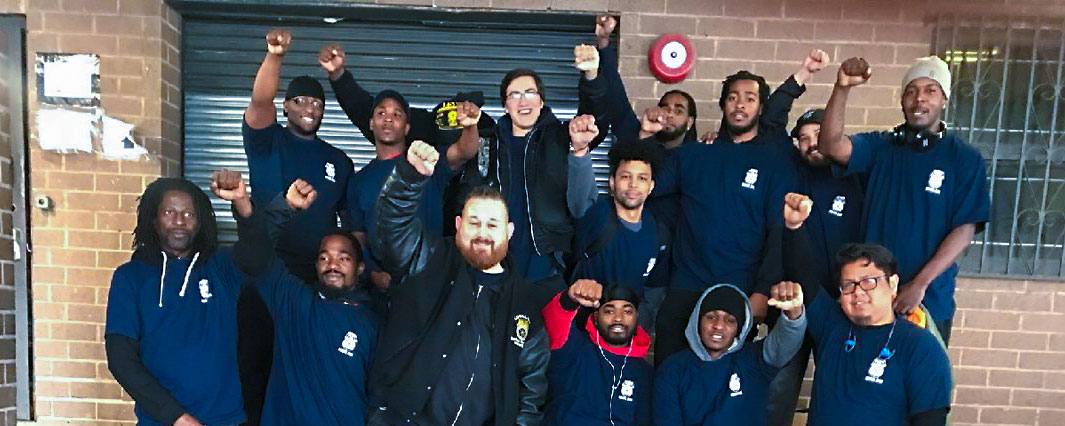 Two Men and a Truck Workers Announce Union Drive Popular residential moving company criticized for poverty jobs, racially-coded language, and unfair promotions
Professional movers at the New York City franchise of Two Men and a Truck declared today that they are forming a union with Teamsters Local 814.
"Moving is a skilled profession and we want to be treated as professionals," said Ramell Brown, father of four and a driver at Two Men and a Truck. "Some guys are working just one day a week, for little more than minimum wage. A union will give us a voice on the job, so we can ensure the company is run in the best interest of those of us who do the work."
Employees notified company management earlier this week that they had decided to join the Teamsters Union, and that a majority had signed union authorization cards. When the company refused to recognize their union, the workers petitioned the National Labor Relations Board to hold an election to certify Local 814 as their representative. The union expects an election date to be set soon.
Workers want a raise, healthcare and retirement benefits, and a seniority-based scheduling system that maximizes employment.
"The workers at Two Men and a Truck need a union because they can't support their families on such poverty wages," said Jason Ide, President of Teamsters Local 814. "The workers now have the Teamsters Union standing behind them and we will do what it takes to get justice for them and their families."
The Two Men and a Truck workers are also hoping to win equal treatment through a union contract. Most of the company's workers are black, while the managers are white. Workers of color have seen promotions go to white applicants with less experience and workers say racially offensive comments have been made by management.
"This isn't the 1950s. Workers should not be treated differently because of the color of our skin," said Milton Cunningham, a helper who works at the company.
Jay Mellentine bought the company two years ago, which is the exclusive franchise of the national brand in New York City and Long Island, and recently hired a new operations manager. Workers have seen business declining and fear for the company. Workers say it appears potential work has been funneled to competitors in the same market, even as some workers at Two Men And A Truck sat home on a layoff. Whatever the reason, employees do not work enough hours to make ends meet and are facing serious financial hardship.
"We want this company to succeed in New York, because our families depend on it," said Julio Casalinova, also a working father and helper at Two Men and a Truck. "All of us are calling on the owner and the national brand to support our union, because this is about building a stronger company for everyone."