Two years after accident, Teamster delivering for the holidays
As the holiday season gets underway, it means busy days for Mike Everett and his fellow Teamsters in the wine and spirits delivery business. Everett is a member of Teamsters Local 917 at Empire Merchants.
Each morning, Everett and his coworkers gather at the company's warehouse in Greenpoint, Brooklyn. They wait for their assignments and then hit the streets to deliver hundreds of cases of wine and liquor to New York's restaurants, bars, clubs, and stores. Everett says he usually delivers in Manhattan, and makes 28 to 34 stops in a shift. His colleagues go as far as Westchester and Long Island to make deliveries.
It's hard work, moving hundreds of cases in a day, navigating heavy New York traffic. Each delivery must be perfect, because any missing case is the responsibility of the worker. And business only gets busier as the city prepares to celebrate the holidays.
This season, however, Everett is thankful to be back on the job. He wasn't sure if he ever would be.
One Saturday in August, 2017, Everett was riding his motorcycle when he realized he was taking a turn too fast. He lost control of the bike. The last thing he remembered, before passing out, was lying on the side of the road, and seeing his leg pointing the wrong direction.
What came next was nearly two years of pain and hard work – both physical and mental. He had six surgeries in under a month, including the amputation of his lower leg, followed by physical therapy.
"I had to learn to step again."
He listened to motivational speakers and developed new interests, like videography and writing to keep his spirits up. He hopes to turn his interest in film into a future career.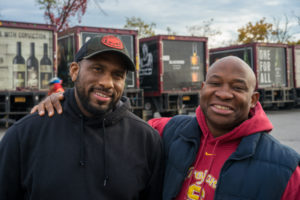 "It's not easy, but you need to have the mindset to keep going."
He also stayed involved in his union. Vincent Marino, Vice President of Local 917, remembers spotting a member, Chad Witsell, videotaping a membership meeting on his phone last year. "I asked him what he was doing and it turned out he was Facetiming with Mike, who was still in the hospital, so he could join the meeting too," says Marino.
Everett was fitted for a prosthetic leg, but after time, as the swelling on his leg decreased, it became too big. His brothers and sisters from Local 917 passed the hat and raised the money for a new prosthetic. When he returned to work this summer, 23 months after the accident, Everett added a Teamster decal to his new leg in their honor.
He's thankful to his union and employer for keeping his job in the waiting. "Other places, they would have just got rid of you. It's good to be back."
Everett says the years since his accident have been hard, but he has no regrets.
"Before I took life for granted, but I've learned a lot. I'm a better person now."