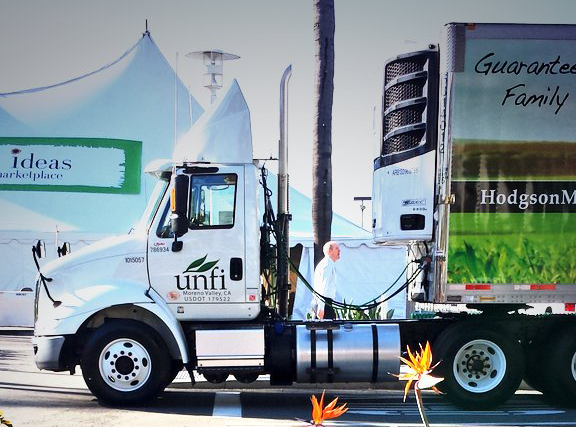 UNFI Drivers in Hudson Valley Join Teamsters Local 445 Drivers at Natural Foods Distribution Company Vote to Join Teamsters Local 445
MONTGOMERY, NY – Drivers at America's largest organic and natural food supplier United Natural Foods, Inc. (UNFI) [NASDAQ: UNFI] have voted to join Teamsters Local 445, the union announced today. The 100 drivers distribute food from the company's Montgomery, New York facility to Whole Foods and other organic, natural and specialty food stores in the New York metropolitan area. They voted to form a union at UNFI in order to ensure they receive fair pay, are treated equitably on the job, and are able to provide a good life for themselves and their families.
"These workers came to the Teamsters to win a strong union contract, like those enjoyed by other Teamster UNFI drivers around the country," said Local 445 Secretary-Treasurer Barry Russell. "The Montgomery drivers withstood pressure by UNFI management – which of course wanted the drivers to remain powerless with no voice on the job – and proudly voted to become Teamsters. We plan to keep that energy alive as we help UNFI drivers get their first negotiated contract."
Teamsters Local 445 represents workers in the Hudson Valley counties of Orange, Sullivan, Ulster, Dutchess, Rockland, Putnam, and Westchester. The UNFI workers join a diverse membership that includes construction and warehouse workers, school bus and freight drivers, and nurses and municipal workers.
"We are so proud to be Teamsters," said Miguel Rodriguez, a UNFI driver. "We've seen what UNFI workers have won around the country by organizing with the Teamsters. We were inspired to stay strong and fight for our union and a voice on the job."
This vote was just the latest victory for UNFI workers. In Moreno Valley, California drivers organized their union with the Teamsters, and earlier this year they achieved a strong first contract, thanks to worker solidarity and the support of customers and food justice activists.
"We are happy to welcome our newest brothers and sisters in Montgomery, NY," said Steve Vairma, Teamsters Warehouse Division Director. "UNFI is now the 6th largest grocery wholesaler in the United States, and the largest in the natural and organic sector. As the company has grown from its days supplying co-ops to become Whole Foods' strategic distribution partner, workers have increasingly sought union representation there. The Teamsters look forward to continuing to protect workers in this industry."
The Teamsters Union now represents workers at UNFI distribution centers in Dayville, Conn.; Edison, New Jersey; Iowa City, Iowa; Auburn (Seattle), Wash.; Leicester, Mass.; Moreno Valley, Calif. – and now Montgomery, New York.
UNFI's Montgomery facility opened in 2014 in order to support Whole Foods Market's expansion in New York. Since 2013, Teamsters Local 445, the Valley Central American Federation of Teachers, and the Hudson Valley Labor Federation — along with community groups, local families, taxpayers, and Teamsters Joint Council 16 — have been working to hold UNFI accountable. These stakeholders plan to ensure that UNFI's expansion in New York state – which was aided by millions of dollars in tax abatements – also benefits the working people of New York.
Next, Teamsters Local 445 and UNFI drivers will enter contract negotiations with company management to reach a contract that protects drivers and provides a stable workforce so that UNFI can thrive in the Hudson Valley.
Contact: Alex Moore, alex@teamstersjc16.com, 718-289-0204