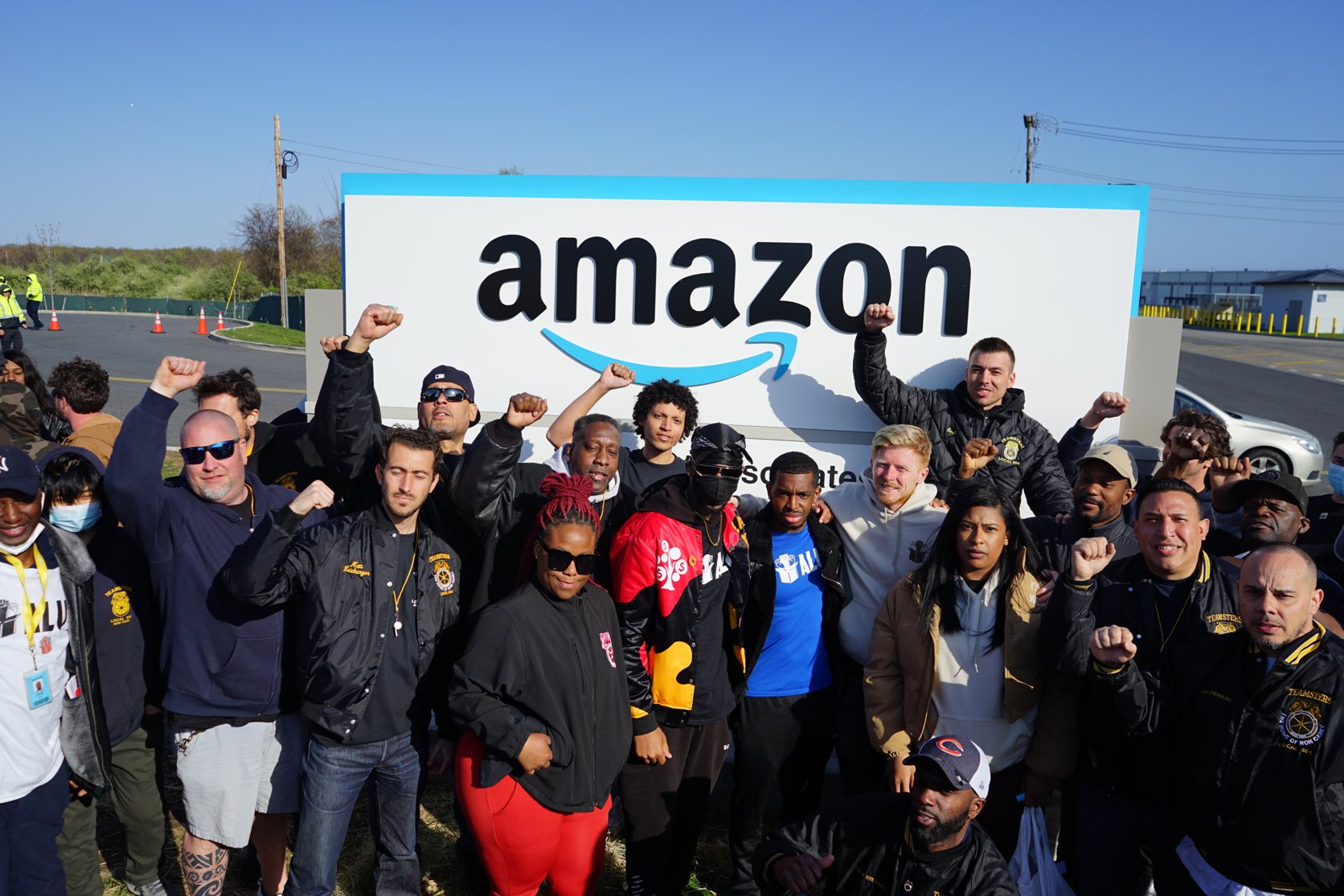 Warehouse Worker Protection Act Signed into Law New Yorkers for a Fair Economy coalition celebrates major victory for workers amid busy holiday shopping season
Unions and community organizations from the New Yorkers for a Fair Economy coalition cheered action on the Warehouse Worker Protection Act (WWPA), signed into law today by Governor Hochul. The legislation brings transparency to exploitative productivity quotas in the warehouse industry and ensures that workers at companies like Amazon know their rights. The signing is a powerful act of solidarity, as warehouse workers face the demands of a grueling holiday shopping season.
In the absence of enforceable standards on warehouse production quotas, New York warehouse workers have experienced high rates of preventable injuries. A New Yorkers for a Fair Economy report released in May revealed that injuries in Amazon warehouses in New York increased 64% in 2021, compared with 20% nationwide.
The Warehouse Worker Protection Act, sponsored by State Senator Jessica Ramos (D, SD-13) and Assemblymember Latoya Joyner (D, AD-77), chairs of each chamber's labor committee, passed the New York State Legislature in June. The elected officials drafted the bill with the New Yorkers for a Fair Economy coalition, which organized and lobbied to build support and win its enactment in the final months of legislative session.
By signing the Warehouse Worker Protection Act, we have made sure that corporations like Amazon and UPS can't wring all the profits they can out of their employees, leaving the workers to deal with their injuries. Every warehouse worker has a community relying on them, relying on their ability to come home from work whole. I would like to thank Majority Leader Andrea Stewart-Cousins for meeting with the Amazon Labor Union as we built support for this legislation, and Governor Hochul for affirming her commitment to strong worker protections. This is the first step in addressing rampant injury in a quickly growing job sector, and I look forward to continuing the work with my partners in the labor movement next session," said State Senator Jessica Ramos (D-Queens, 13th SD), chair of the Senate Labor Committee.
"Protecting workers from the stress and physical injuries they may face as high-pressure quota systems become more commonplace in warehouses and distribution centers throughout New York, the Warehouse Worker Protection Act is a crucial workplace safety measure and I am proud to have partnered with so many advocates, friends in the labor movement and legislative colleagues to get this legislation enacted into law," Assemblywoman Latoya Joyner (D-Bronx, 77th AD), chair of the Assembly Labor Committee, said. "Removing the incentives for e-commerce giants like Amazon to engage in unsafe practices, the Warehouse Worker Protection Act enhances workplace safety protections for thousands of New Yorkers and I truly appreciate Governor Hochul signing it into law."
"Today, New York strengthens a national movement to thwart corporate power and challenge Amazon's rampant abuse. Across the country, people are fed up with the skyrocketing cost of living and deteriorating working conditions, while mega corporations shamelessly rake in profits. The Warehouse Worker Protection Act is a monumental step to empower workers and bring transparency to secret quotas that prioritize dollar signs over people. And we can build on it by creating injury prevention programs that design warehouses to protect workers first," said Maritza Silva-Farrell, Executive Director of ALIGN and leader of the New Yorkers for a Fair Economy coalition. "We are proud to have won this legislation with a mighty coalition of labor unions, community groups, and advocacy organizations—thank you to RWDSU, Teamsters, New York Communities for Change, National Employment Law Project, Strategic Organizing Center, and many others for their tireless work, as well as to Senator Ramos and Assemblymember Joyner for shepherding the bill in the legislature. When we fight, we win!"
The Warehouse Worker Protection Act (S8922/A10020) protects New York State workers doing manual warehouse work, including at warehouses operated by courier and delivery services, from the hazards of abusive production quotas. The act requires that major warehouse companies provide their employees with documentation of their quotas at time of hire, or when the law takes effect for current employees. Employees must also be provided with copies of their quota when changes are made and have the right to request their quota at any time, even after their employment ends. Companies will no longer be able to impose quotas that interfere with workers' lunch, rest, or bathroom breaks, and workers are protected from retaliation when exercising their rights under the act.
"Teamster members have spent decades fighting for strong safety standards in the warehouse industry, but Amazon's growth is again putting workers in danger," said Thomas Gesualdi, President of Teamsters Joint Council 16. "We thank Governor Hochul, bill sponsors Senator Ramos and Assemblymember Joyner, and legislative leaders for setting a safety baseline for all warehouse companies with the Warehouse Worker Protection Act. This is a real victory in our continuing fight for rights and collective bargaining for all warehouse workers so they have a voice on the job and can protect themselves."
"Today, we've achieved a big win for workers' safety. Regulations protecting workers in the warehousing industry have lagged far behind its rapid growth until now, which is why the RWDSU has long prioritized the challenge of protecting warehouse workers from stress induced injuries and illness from limitless quotas. Thank you to the bill sponsors New York State Senator Jessica Ramos and Assemblymember Latoya Joyner for their leadership on this commonsense health and safety bill, the NYS legislature for passing this critical safety measure, and Governor Kathy Hochul for signing it into law today. The WWPA can start helping workers who need it now more than ever," said Stuart Appelbaum, President of the Retail, Wholesale and Department Store Union (RWDSU).
"Finalizing the WWPA is a huge boost for organizing Amazon workers. This shows that we can and will protect our fellow essential workers while we wait for Amazon to come to the table to bargain with the workers at JFK8," said Derrick Palmer, Vice-President of the Amazon Labor Union.
"Warehouse workers in New York State have been national leaders in bringing public attention to the injury crisis in this sector, a crisis caused by companies forcing workers to work at dangerous speeds in order to meet continually changing quotas or else face discipline or termination. With the adoption of the Warehouse Worker Protection Act, they will now have critical new rights to help keep themselves and their co-workers safer on the job—the right to know what quota an employer is using, the right to copies of performance data and the right to refuse to work under quotas that interfere with meal, bathroom, and rest breaks,"  said Irene Tung, Senior Researcher and Policy Analyst, National Employment Law Project.
About New Yorkers for a Fair Economy
New Yorkers for a Fair Economy (NYFE) is a coalition of labor organizations, small businesses, and immigrant and community organizations uniting to safeguard our communities from abusive practices of big corporations and achieve an economy that works for all New Yorkers. NYFE is led by ALIGN (Alliance for a Greater New York) and includes labor unions Teamsters Joint Council 16 and Retail Wholesale, and Department Store Union; community groups New York Communities for Change and Make the Road New York; and research and advocacy organizations like National Employment Law Project and Strategic Organizing Center, among others.