A Year of Progress for New York Teamsters Standing with Immigrants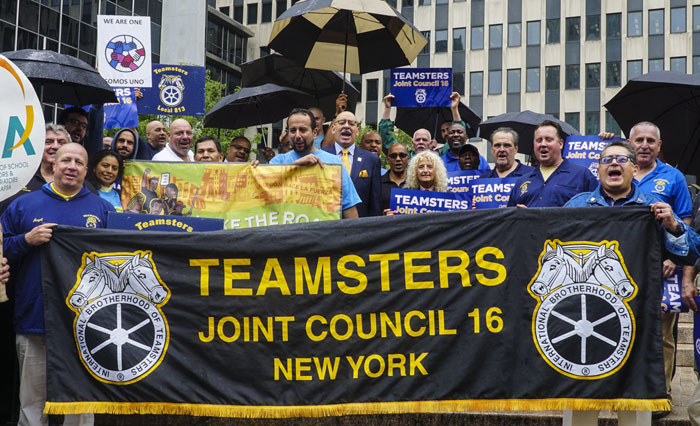 Our immigrant communities faced increased attacks in 2017, and the Teamsters stood with our allies to fight back. We rallied with immigrant New Yorkers from Battery Park to JFK. When our member Eber Garcia Vasquez was detained by ICE, we rallied and demanded his release. Eber was deported, but it was a rallying cry for our union. We are now a sanctuary union and will be expanding our efforts in 2018 to protect our immigrant members and their families.
Defending Pensions
Many companies saw the new administration in D.C. as license to attack basic protections for workers. The Teamsters fought back and won. In the height of the summer season, Teamsters Local 812 won an 82-day strike at Clare Rose Beer Distributors, beating back a company plan to end the pension and disability funds. Teamsters Local 814 resisted an illegal lockout by one of New York's biggest office furniture companies, and won an agreement that ensured the company will continue to use union workers.
Reforming Commercial Carting
This year, the City of New York took significant steps to reform our commercial sanitation industry. The Department of Sanitation's implementation of a commercial waste zone system is well under way, with the legislative process expected to begin next year.
The Teamsters and allies launched a new website, Trash Kingpins of New York City, which exposes the corruption, racist and sexist comments, environmental damage, and labor abuses of some of New York City's worst private sanitation companies.
Organizing Sanitation Workers
In one of labor's big organizing wins this year, the workers at Sims Municipal Recycling organized a union with Teamsters Local 210. The immigrant workforce, which handles all of NYC's residential recycling, had the courage to demand respect and fairness at work. And they threatened to strike if they didn't get it.
After City Council Members, led by Carlos Menchaca and Antonio Reynoso, gave their support at City Hall, and Mayor de Blasio called on Sims to allow a fair unionization process, workers voted overwhelmingly to join the union. In August, they won their first union contract.
Organizing on Broadway
In May, Teamsters Local 817 called on Broadway producers to give its casting directors a fair deal. Casting workers are the only Broadway employees without a union contract, or healthcare and retirement benefits from the shows they work on. Casting directors won the support of Broadway celebrities as they rallied outside the Tonys and marched through the theater district.
Puerto Rico Se Levanta
New York Teamsters came to the aid of Puerto Rico following Hurricane Maria. The union sent over 100 skilled volunteers to drive supplies and clear debris, in addition to sending tens of thousands of dollars worth of relief goods.
More Workers Join Teamsters
While Whole Foods clerks still lack a union, the Teamsters have successfully organized the drivers who deliver to Whole Foods, employees of UNFI. Teamsters Local 445 is the latest to organize the company's drivers and won a first contract in July.
Other organizing wins included Canteen Vending workers joining Teamsters Local 810, film and television location workers joining Teamsters Local 817, and gourmet cheese makers joining Teamsters Local 553.
Wins at the Ballot Box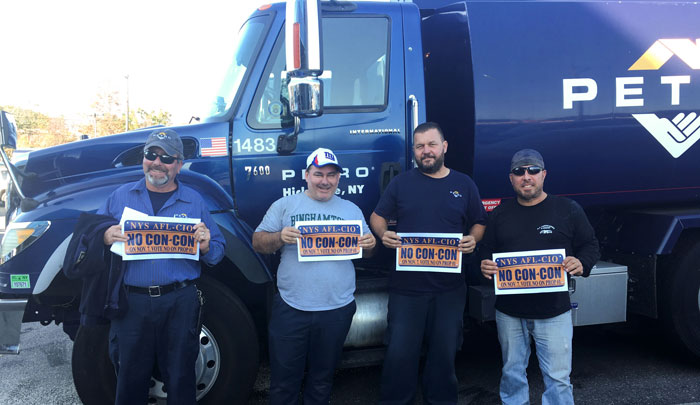 Working people got to the polls to strike down attacks, like the Constitutional Convention. The Teamsters turned out our members for progressive candidates for local office, and played a key role in electing a new City Council President in Yonkers.